Getting out on the water in a kayak, paddle board or canoe is one of the greatest summer activities.  There is no better feeling that getting out on the water, bringing yourself closer to nature and further away from life's everyday stresses. Once you've invested in one of these small non-motorized watercrafts, it is important to take care of them the right way. High quality paddle boards, kayaks, canoes, and more can carry a heavy price tag, not to mention some of them are just plain heavy. To make the most out of your small watercraft and not have to worry about lugging it across your lawn every time you want to use it, CanadaDocks has you covered with our bestselling accessories.
Support With Even Weight Distribution
Often times, when canoes and other small watercrafts are laid on their side, up against a wall, or on uneven ground, they can become warped and bent. The hull of your canoe may be at risk of deforming or bending over time it if it is stored with an uneven weight distribution. This applies to plastic, fiberglass, and wood-hulled boats. To ensure this doesn't happen, your watercraft needs to have proper supports at the right spots across the base to ensure adequate support.
Keeping your small watercraft lifted off of the ground not only keeps it clean and mostly bug free, it also ensures that it won't be exposed to prolonged damage from extended periods of time on land. Changing temperatures can affect your boards. If it is too cold, the shell can crack and if it gets too hot, the shell may delaminate. Keeping it off of the ground and allowing air circulation all around will prevent this from happening. Items left on the ground are also at risk of exposure to prolonged dampness, which can cause mold and mildew to develop.
Most stand up paddle boards are 10-12 feet long, while canoes and kayaks can be as long as 17 feet. Waterfront owners don't always have an ideal spot to fit something so large so close to the shoreline for easily accessibility. With our Paddle Board Rack and Canoe and Kayak Rack, you can store your watercraft close to the water.
Made out of stainless steel, the Paddle Board Rack is built for the life on the water. It is extremely durable and strong enough to hold two paddle boards. It can also be used to hold wake boards, water skis, paddles, surf boards, and more. The rack is designed to easily slide your watercrafts into the holders on either side. Not only does it make it easier to access your items, it is also a great way to keep them off of the ground. Your small watercrafts will be cleaner, and have less wear and tear. The rack is designed to safely attach to the side of any CanadaDocks dock section. It can be easily installed in minutes.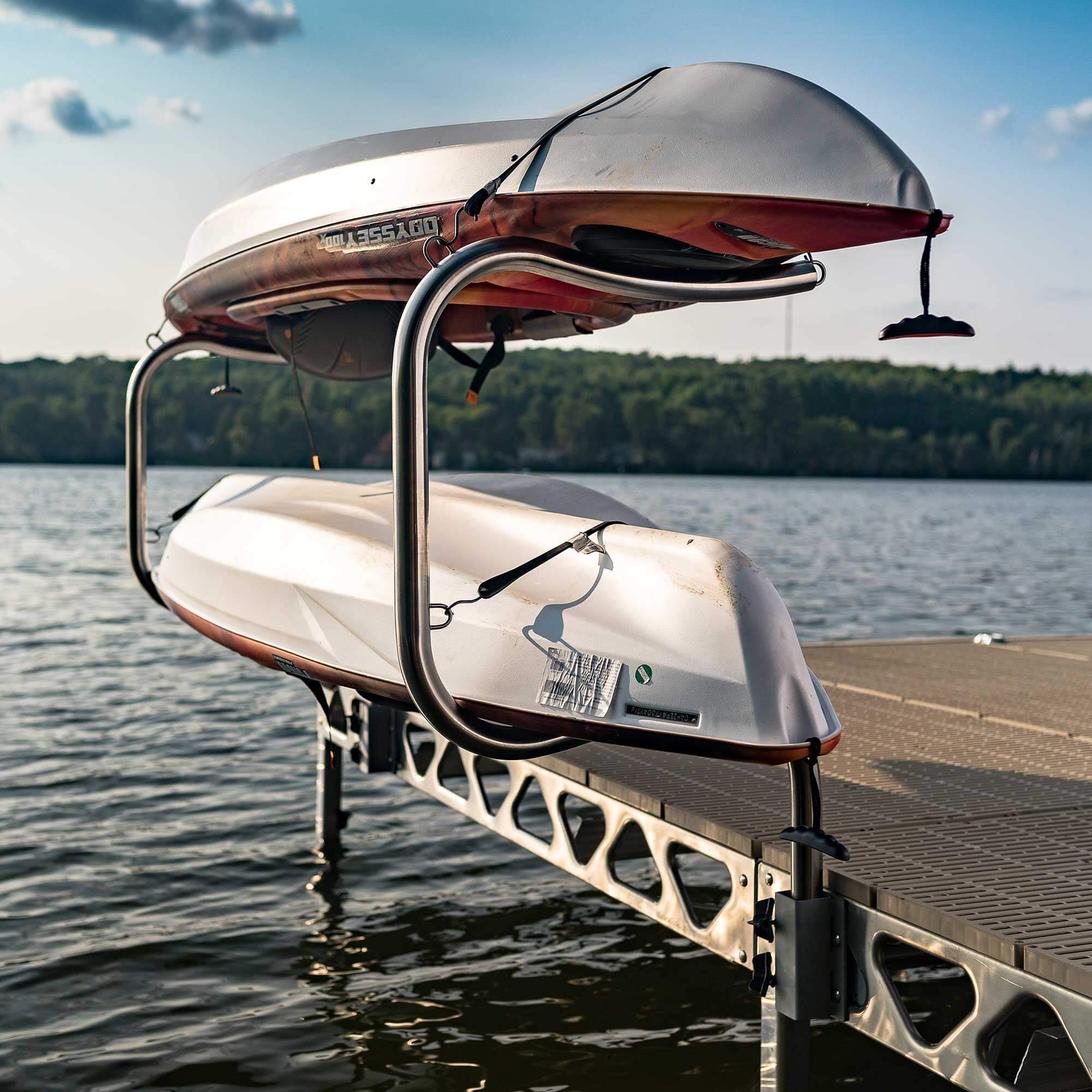 Similar to the Paddle Board Rack, the Kayak Rack is also made out of durable stainless steel, and it is built by our engineers with the option to lay your kayaks or other watercrafts flat on the bars. With the addition of convenient tabs, you have the option to connect straps and bungee cords across your watercraft for added security. This rack holds up to two kayaks or canoes, as well as paddle boards, wake boards, surf boards, and other water toys.
Speak with our dock experts today to see which storage rack is right for you.