One of the key focal points and highlights of living on a lake is a having a dock out on the water. What can be better than a beautiful dock to finish off your lakefront?
Just last week our team had the opportunity to install one of our Standing Dock systems for the longtime friends of CanadaDocks™ Mark and Joanna Faris of The Faris Team. The couple was looking for a dock that their family could enjoy, they could dock their boats too and be used as a swimming platform. We were happy to deliver!
The installation was on Lake Simcoe, which is a lake known for its heavy waves and intense ice shifting during the spring thaw. This as well as the naturally shallow shoreline makes CanadaDocks™ Standing Docks an obvious choice for a lake such as this. The docks lightweight and portability allows it to be taken in and out each season to prepare for the winter, avoid possible ice damage and the legs allow for a sturdy deck surface amidst rough water conditions.
As you can see ThruFlow™ Decking was installed after the frames had been placed in the water, this was done to reduce weight while adjusting and leveling the docks. Additionally, utilizing Quick Link Docks the dock pieces easily connect to one another with a minimal amount of adjustment needed.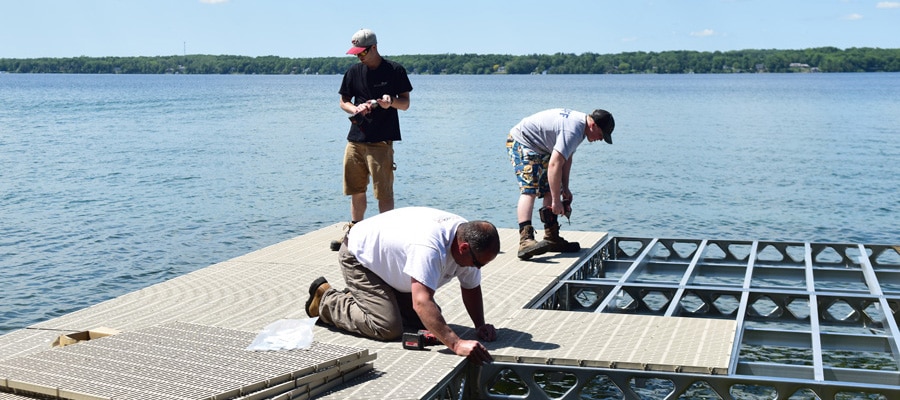 Our team came in and installed an 8'x16′ Ramp into an 8'x8′ Standing Dock which connected to a 16'x24′ platform made from 8'x8′ docks in only one day! Additionally they added an 8′ Corner, a 4'x8′ Standing Dock, Small Beige P-Bumpers, Solar Dock Lights and a Solar Light Safety Ring Station! With a dock like this, the family can dock their boats, go for a swim, enjoy the beautiful view and more.
Watch this quick video showing the full dock installation. The CanadaDocks™ team is ready to install the dock of your dreams all summer long, so why not get quote for the last dock you'll ever need!