CanadaDocks dock kits are designed to suit every age and ability. It is our mandate to ensure that everyone can have fun on the water.
Your dock is an extension of your waterfront property. You want everyone who lives or visits your space to feel comfortable and welcome. That includes accessibility on your dock. With our vast collection of safety and accessibility accessories, you can rest assured that you can accommodate friends and family of all ages and abilities. 
We designed our dock kits not only to be light, but also for maximum stability, whether it is a standing or floating dock.
"It is just incredibly stable. It does not move, it's like walking on the highway.  It's just so much safer and it is so stable. – Joel Shier, our customer who built a 2,000 sq. ft. dock in Marathon, Ontario.
Our modular design allows you to customize the size of the dock to suit your needs. With our transition pieces, we can extend the width of the pathway on your dock from 4' to 8'. Our Quick Link Dock kits allow for the installation of the docks side by side and end to end. That way you can make the dock wider or longer in 4' or 8' increments.
Our Thruflow decking provides a worry-free surface. The slots ensure that it is slip resistant, will not pool water, will not get hot, and most importantly, no more splinters!
CanadaDocks carries a vast array of accessories to provide accessibility and safety for all.
Getting in and out of the water has never been easier with these accessories.
Made with the same strength and durability as our dock kits, the Access Platform allows easier entrance to the water or to small non-motorized watercrafts such as kayaks and paddle boards.
Our stainless steel Safety Grab Bar can be easily installed on any CanadaDocks dock kit. It provides additional support for those who need an extra hand in and out of the water or watercrafts.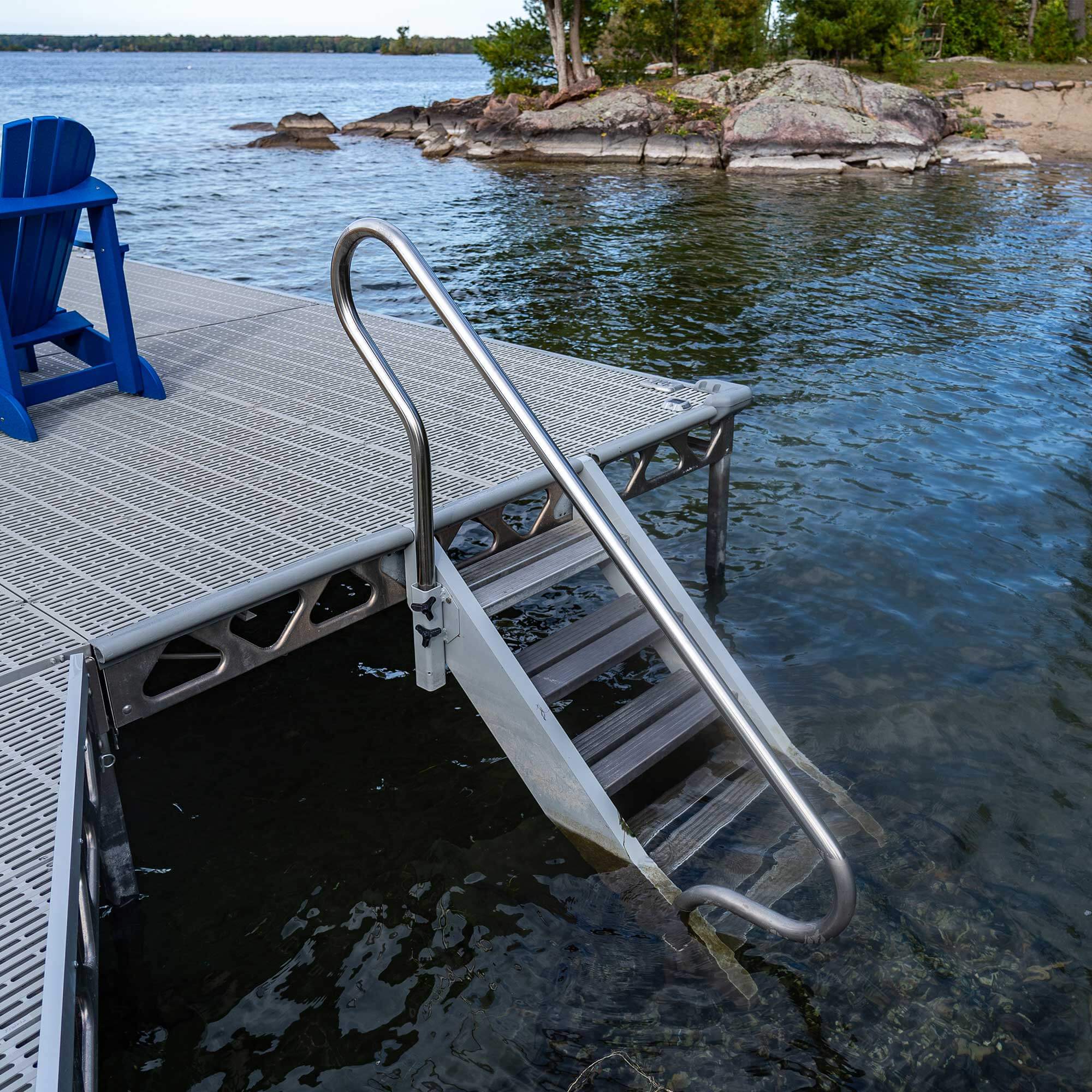 We carry 7 types of ladders to provide you with the right mechanism to climb in and out of the water. We also offer stairs in place of a ladder. With up to 6 steps and an optional handrail, this option is great for anyone with mobility restrictions who are unable to use a ladder. Our non-slip surface is especially helpful in the water.
Safe Transition Onto The Dock
Getting onto your dock may be challenging depending on the shoreline. Our 4' ramp kits provide a seamless entryway onto the dock.
Maintaining a visual sightline is essential when you are on the water. Our solar lights provides ample lighting for your dock and pathway.
We carry two types of handrails to provide added support and barriers to the water. Available in either aluminum or stainless steel, our 8' handrails ensure an added element of safety to your dock.
While walking from the ramp onto the dock, rest assured that there are no trip hazards. Our aluminum hinge cover closes the gap between the dock and ramp and is included with all of the ramp kits.
Staying safe on the water also means ensuring safe practices while swimming. Our Solar Light Post has the option of adding a 20" orange life safety ring in case of emergencies on the water. Our light post also provides a beacon of illumination for late night swimmers to get back to the dock safely.
No matter the limitations your family and friends may face, it is our goal and promise at CanadaDocks to provide a safe space to have fun on the water. Speak with a dock expert today to customize your CanadaDocks.